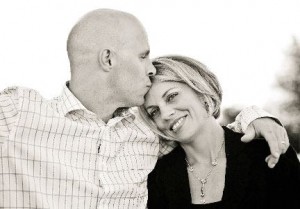 Ben and I are college sweethearts. We met at the University of Oregon when I was a freshman. My friend had a crush on his roommate (now his caddie, Joel) and we stopped by one night to say hi. We hung out soon after and never stopped! We married five years later, his rookie year on the PGA TOUR and then had our first child five years after that. We now have two little ones, 4 and 2, and love spending our days watching them grow up.
We always enjoy joking around about our college days when Ben would have to ask my mom to use my credit card to take me out on a nice date and all the things he did to try to make it to the next month's rent check from his parents — including going to the ATM and depositing empty envelopes to get cash out that he didn't have! Ben was a very sweet boyfriend while we dated, always surprising me in the computer lab with a drink and a pack of Starburst. He always brought flowers to me at my sorority house and showed up to every game I cheered at. We love how our life and relationship has evolved and are so grateful for the many blessings we have shared in our life together!
Here are just a few things you did not know about Ben:
You will never receive a card with just Ben's signature. He always writes thoughtful notes and shares his heart.
It was hard for Ben to focus on school when all he wanted to do was be on the golf course. He definitely missed the days they covered how to use a "comma" and I spent many hours "proofreading" his papers in college that turned out to be complete re-dos the morning before they were due.
Ben loves to dance. We have a "dance party" just about every morning in our golf studio with the kids when we are home.
Ben loves trying to be artistic with his hands. One time when he was out with a back injury, he made a birdhouse that matched our home.
When we were dating in college and talked about getting married, Ben professed that he wanted to be the cook in our house. Although his signature spaghetti and chili-Frito "gut pack" hasn't made it to our kitchen table, he does make some killer French toast.
Ben refereed boy's basketball games in high school and always hoped to be a coach some day. He loves kids. He recently put on an impromptu kids clinic at our golf club to be able to teach and reach out to the kids in our neighborhood.
Ben is passionate about his relationships. He loves encouraging and going deep with people. It is hard to keep anything surface-level around him.
Ben loves to fish. One offseason, he couldn't find anyone to join him, so he flew to Costa Rica for an adventure by himself.
Ben is not a details guy. He loses things all the time, has very little sense of direction, and is a bit unorganized — that is why God gave him me!
One of Ben's favorite people is his mom. One of his most special memories is waking up and finding his mom praying near the space heater in their house before she went to work.
One of Ben's other favorite people was his grandfather, who taught him how to play golf as well as many other life truths. One of Ben's favorite quotes from his grandfather is this: "A bad putt is always better than a bad chip, so putt whenever you can."
Ben LOVES to surprise people in a good way. For our fifth anniversary, Ben rented out a movie theater in Portland and showed me a video he had a friend made of our life together with photos and music — so amazing!
Ben enjoys following sports — his favorites are Oregon Ducks football; the Miami Heat because his childhood friend, Erik Spoelstra, is the head coach; and the Yankees for Mark Teixeira, another good friend.
Ben LOVES being a daddy. When off the course, he is fully on as a dad. He loves adventures, bike rides, games and anything that involves having fun with the kids.
When Drew Bledsoe finished his career playing for the Cowboys, he lived a few doors down and introduced Ben to red wine, which is now an interest as well. Drew started his own vineyard and wine, Doubleback, which is a favorite. We just went to Napa with some couples from the TOUR and had a wonderful getaway.
Ben has hosted a charity pro-am for the past five years that has raised over $1.5 million. It has become a very special event for us and he never turns down a request I make of him for the occasion — whether it be chasing down other players to autograph a pin flag or letting me go to Cambodia to see where our money is helping some kids.
I've been praising him a lot, but it's not all good — Ben farts all the time!!!
Ben is addicted to the kid's game app called AniMatch, a memory game. He has an ongoing competition with Brett Quigley and there are times I have to tell him to put it down!