My grandpa was the real reason I started playing golf. I absolutely loved being around him and thought he was the coolest guy I had ever met. I respected him for many reasons. I admired his sense of humor, work ethic and the way he loved and cared for my grandma. The easiest way to spend time with him were to either help him work in the yard or go out and play golf with him, so to me, it was a "no-brainer." I picked up my golf clubs and played with my grandpa and his buddies any chance I got.
One of my favorite memories growing up was playing golf with my dad before church on Sunday morning. We would get up while it was still dark out, hop the fence and tee off before sunrise. It would be too dark to see the ball so I would lie down behind the first tee and watch my dad tee off and try to catch a glimpse of where it was heading. After he would tee off, he'd come and lie down and do the same for me. I grew to love the game from there…
As a kid, I was very motivated to be the best. I had a competitive spirit and a strong work ethic from a young age. My parents never had to tell me to work harder, in fact they often times had to do just the opposite.
I remember we were remodeling our house and we decided to use Astroturf on my bedroom floor instead of carpet. To them, they were just saving some money, but to me, I had the best room a kid could ask for. My uncle sunk a cup in the floor so I could putt in my room whenever I wanted. I used to stay up late into the night sinking putts, but because the cup was made of metal, my parents could hear the clinking noise it made every time I made a putt. One of them would come in and tell me I needed to go to bed and get some sleep. I came up with the idea to line the cup with some of my socks so the ball wouldn't make a sound when it dropped in the hole. I'd stay up late every night coming up with putting games I had to do before I could go to bed. One game I always played was to make 100 three-foot putts in a row. If I got to 97 or even 99 and missed one, I would start over and do it again. I believe that was what made me the putter I am today. The pressure of getting to 100 starts increasing as you get closer. It was a way I could put pressure on myself and be able to maintain focus on those last putts of the day.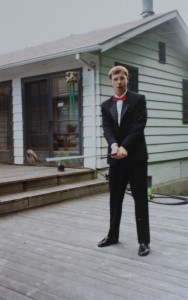 I had a huge breakthrough moment with my teaching coach when I was a teenager. I remember him saying to me one day that if he had just worked a little harder, he could have made it. That was a defining moment for me. I told myself I would never say that to myself. I would never give myself the opportunity to wonder if I could have been something. I figured if I worked as hard as I could and outworked anyone else, I would have to succeed. If I didn't then I would learn a great deal along the way. To this day, I still think that way.